🟢 Le Soleil - Green - Beginners
Le Soleil is a green slope in the Saint François Longchamp ski The slope is excellent for beginners at winter sports, as well as children. The quality of the green slopes, including this one, is high. Le Soleil might be one of the greenest slopes in the Alps! The slope is even: not too flat at any point, and not too steep either.
🔵 Le Mollaret - Blue - Beginners
Parallel to Le Soleil is the blue slope of Le Mollaret. The blue slope is a little steeper, but still perfectly manageable for beginners and children. Le Mollaret is also found in the Saint François Longchamp ski area, and winds its way underneath the Mollaret chair lift.
🔵 La Madeleine - Blue - Beginners
La Madeleine is a beautiful blue slope at the Col de la Madeleine, the mountain known for the Tour de France. The slope starts off wide, then leads through the forests, and ends below the Madeleine chair lift. Just like Le Mollaret, this blue slope is perfect for beginner skiers or snowboarders.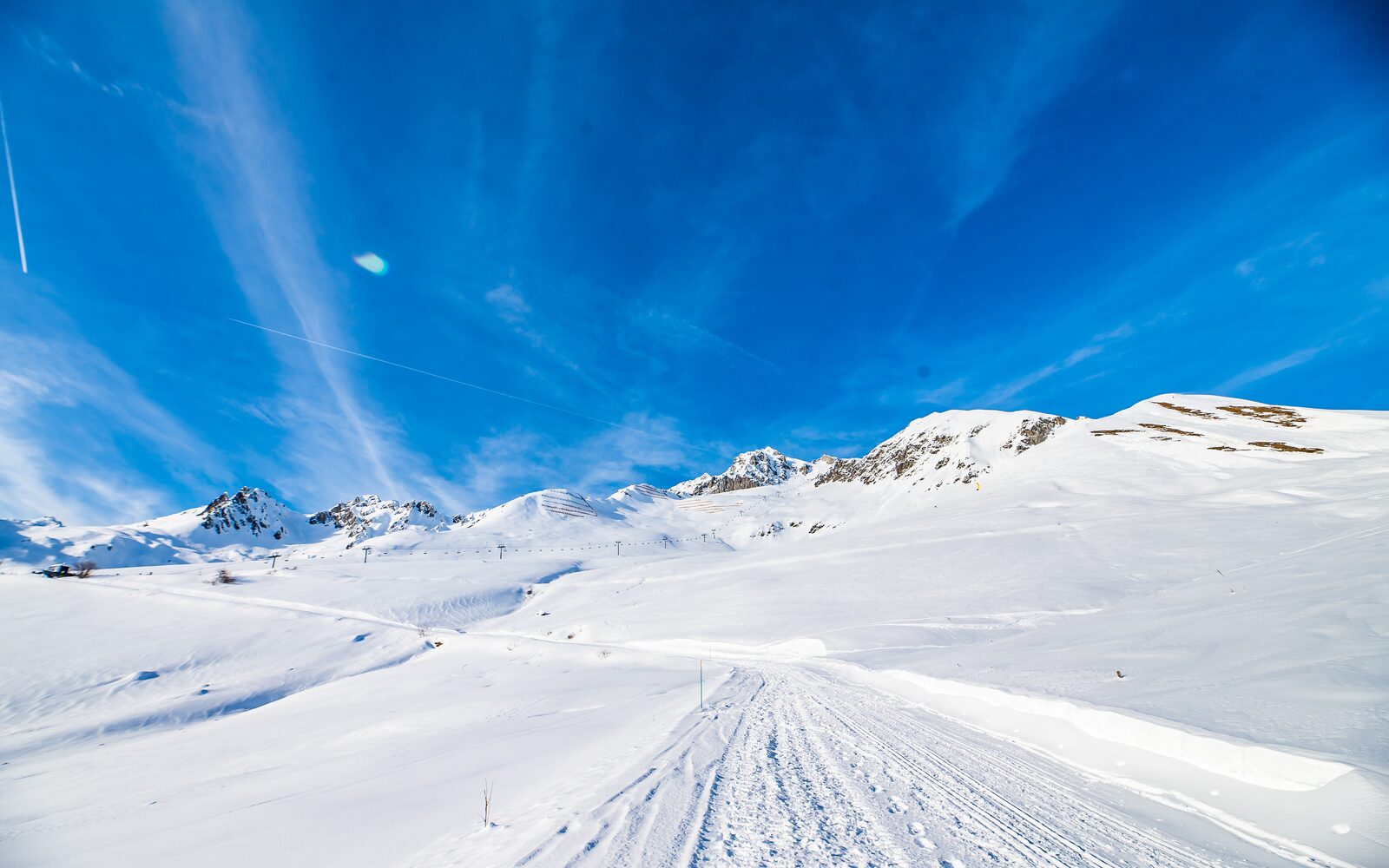 🔵 La Grande Combe - Blue - Beginners
From the Saint François Longchamp ski area, you can ski to the Valmorel Ski area. Along the blue slope of La Grande Combe, you cross over to the slightly more challenging ski area in Valmorel. This allows you to explore both sides of the Col de la Madeleine. And we will give you a spoiler: it is beautiful there!
🔴 Col du Mottet - Red - Advanced
Like we mentioned, the peaks above the village of Valmorel offer a little more of a challenge for the advanced skier or snowboarder. Here, you will find several red slopes, including the Col du Mottet, the slope you absolutely must descend in Valmorel. This slope starts at one of the highest points of the Le Grand Domaine ski area: at a height of 2403 meters. Via the Col du Mottet, and alter the Combe du Mottet, you arrive at a pleasant mountain cabin.
🔴 Reverdy - Red - Advanced
Still, you will find red slopes in other places than the Valmorel ski area as well. Above the village of Saint François Longchamp, you can seek out a challenge too. From the highest point, the two most challenging slopes wind their way down. The red Reverdy is a beautiful descent with a breathtaking view of the valley. Tip: make this descent in the morning, because that is when the snow is in its best shape.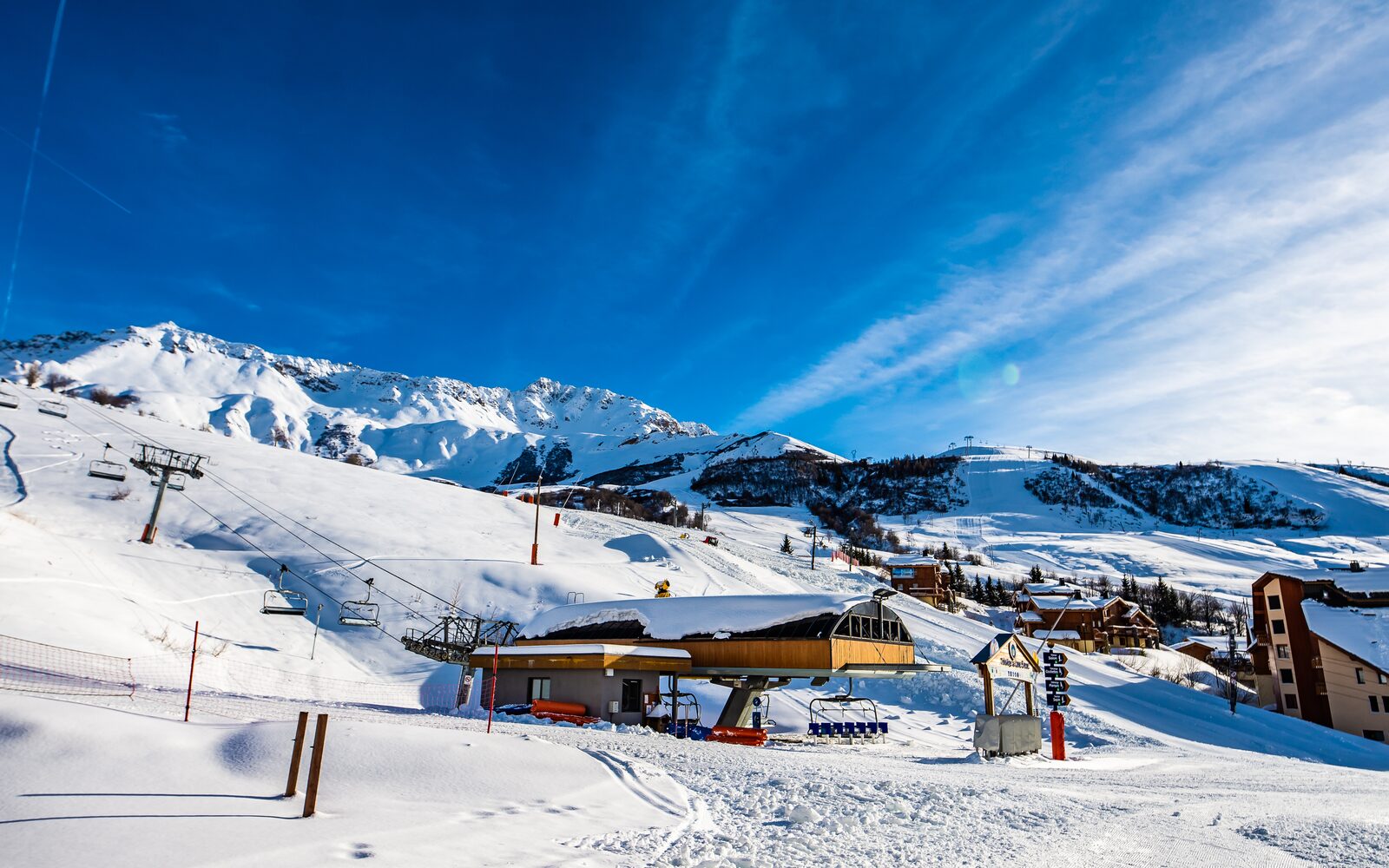 🔴 Samourai - Red - Advanced
The Samourai is a popular slope among advanced winter sports enthusiasts as well. From a height of 2270 meters, you will make your way toward the valley at full speed. The slope is situated high on the mountain, which means the show is often still in good condition. Do you have what it takes to brave the Samourai?
⚫ La Lauzière - Black - Advanced
And this is it: the ultimate slope for true daredevils. This is the most challenging slope of the ski area. As it implies, black stands for difficult. Are you a beginning skier or are you going for a trip with your children? In those cases, we would recommend you skip this slope. But in case you want to experience a real kick and race downward at high speed, you should go for it!
Le Grand Domaine ski area: more than just skiing
The above slopes might be our favorites in the Valmorel and Saint François Longchamp ski area, but there are many more slopes to be found. And there is even more, because a ski holiday is more than just skiing. How about hot chocolate, mulled wine, jägertee, and apple strudels? There are plenty of great ski huts in the ski area where you can relax in the sun for a while.
Staying at Parc Madeleine in Saint François Longchamp
During your holiday at Le Grand Domaine, it goes without saying that you need a base camp to enjoy some relaxation after a day on the skis or snowboard. Parc Madeleine is situated in Saint François Longchamp, right at the ski area. The resort offers luxurious apartments for 4 to 10 persons, as well as freestanding chalets for 6 to 12 persons. From your apartment or chalet, you can be on the slope in no time! You can book more than just your stay at Parc Madeleine: we are at your service when it comes to ski lessons, ski equipment, and ski passes as well. On top of this, we offer a covered parking space, ski lockers, a bread service, and a pleasant restaurant which can be seen as the living room of the resort.
Are you ready for an unforgettable holiday in the French Alps? At the ski area of Le Grand Domaine, everyone has a great time: beginners, advanced skiers, and even those who don't set foot on the slopes. Parc Madeleine offers you the ideal base camp. What are you waiting for? Go ahead and make your booking, and let the countdown to your winter sports holiday begin!
Laat u inspireren door onze andere blogs ↓